PC800 - what in the heck is that?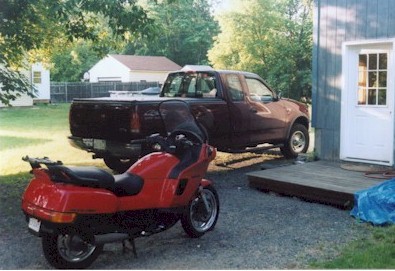 PC800 is the designation of the Honda Pacific Coast, a motorcycle built in Japan, exported over here to the United States from 1989 to 1998 with a few years missing, due to overstock. The bikes on the outside are pretty much the same - the 1989's had one electrical issue, has been since redesigned, but don't let that stop you from buying the bike. The PC800 was marketed towards the white-collar worker. These folks (myself included) who want a motorcycle but for as maintenance goes, washing and waxing was enough. To the most extent, that's true! The oil needs to be changed, and fluids flushed now and then, you can do it yourself or have the dealer do it. No engine to clean, no need to have valves adjusted, no chain to be lubed, not too powerful for many, comfortable for extended rides – it's an all around go-getter.
It's a vanilla bike - with a fudge twist and that's just the way I like it. No crouching over an overheated, hotheaded sport bike - weight on wrists with the hope I can stand it for long periods of time (I tried, I can't..wuss am I..) No lack of room for storing items, and very little use of bungie cords required, praying things won't fly away. For passenger comfort, a generous seat is provided, no hanging onto a broomstick for you.
Power? - Who needs it! between 45-50 MPG, nice ride, a passing semi doesn't blast you with air - and it's not a 800 pound Gold Wing. So that makes the PC800 an all around bike for touring, commuting, and single guy grocery shopping. In case you're wondering - the engine is 800cc water cooled V-twin and very low maintenance - which is great, can't even see it. The center of gravity is really low, like a Harley Fat Boy (666 pounds), so maneuvering is easy, much easier to handle in low speed traffic than a Kawi Connie (Kawasaki Concours) which BTW has a 7.5 gallon gas tank mounted up high.
Jeers? - Sure - it weighs in at 633 pounds - the bike (and the owner) should go on a diet. The gas tank - 4.5 gallons, with no reserve and the gas gauge needs to modified to reflect true amounts - I go 150-170 miles before looking for a petrol pump. Compare it to a Harley Sportster which touts 100 miles between fill-ups, you're in heaven!
In short for me - it's a heavy bike, but very maneuverable and VERY versatile, a definite plus in my book.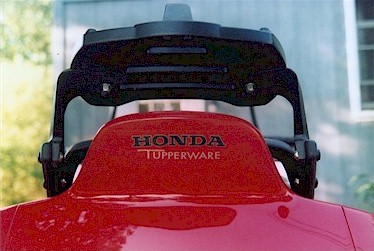 In the rear is a trunk – when you lift up the passenger seat, underneath is two very large, built-in saddlebags. I am able to easily carry a briefcase on one side and a laptop computer in the other or my groceries for the week. I primarily have one side with road stuff inside, such as first aid, tool and tire patch kits, dark visor for helmet, various locks, manual, and various bits and pieces I just can't live without.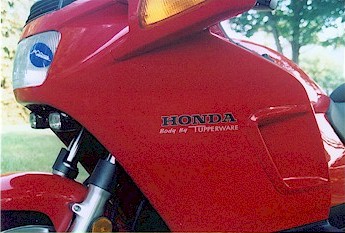 Frequently Asked Questions:

Q - Body by Tupperware – what's that? A- The body of the bike is plastic, good to keep clean, very bad in a spill. Someone on the PC800 mailing list made up high quality stickers for the bike, "body by Tupperware" – very fitting and fools more people than not! Want to get some? Click Here

Q- How did you find out about this bike? A- I was looking for the best all-purpose bike. I had a 1985 Honda Interceptor 700cc, pre-hunched over sportbike. Very nice engine, crappy transmission – not perfect to learn on, but it did the job. After getting the basics down and then some, I was ready of a bike I could commute on. I looked everywhere and found a site at About.com – Walt, the guy who ran the site for about, has a PC800 in his arsenal, and I found out about the PC800 mailing list and webpages from there. The rest is, shall we say - history.




Q – Okay, I want to ride, what's the first step? A- The first step would be finding a motorcycle safety foundation course in your state. Since the course is booked way ahead, I had the opportunity to practice, practice, practice! I have a road nearby, which is very quiet and practiced starting and stopping, - roll on, roll off the gas/clutch and brakes. I practiced for a three weeks before getting out of 2nd gear and hitting the quieter roads in town.
Q – Aren't you afraid you're going to crash? A- In my mind, there are two types of crashes. The slow ones which is "dumping" the bike. The fast ones – going for a spill. Dumping a bike to me, means you just lost control of the bike at a slow speed and the bike is going to go down – hopefully without you underneath it. I've done this twice – or once a year. It's usually something boneheaded, like using the front brake to stop in a situation you shouldn't. The bike front wheel will lock up on loose soil/gravel and due to how heavy the bike is and the angle of the bike, down you go! It is best to keep the bike in an upright position if you are at a stop or nearing a stop.
The second type - crashing, is usually not your fault - it's folks in cars (cagers) who don't look around before proceeding. Sometimes, and I do have these folks whizzing by while I ride, are motorcyclists who think they are daredevils and will live to talk about it. EMT's refer to these folks and folks who don't wear protective clothing and headgear as "organ donors". The standard "get hit by a car" accident is when a vehicle pulls out in front of you - typically making a left-handing turn. So, look twice!!!!
In some countries, if you say "I didn't see them", you have just confessed to the crime, for you are held negligent of not operating your vehicle in an unsafe manner. All you can do is ride defensively, and don't take any chances. If you come up to a car making a left handed turn - assume they will turn left - and slow down. Don't know what's around the corner up ahead? - Slow down! Know your limits - tired?- pull over! - It takes strength to ride and keep hydrated - reduces soreness for you also loose a lot of moisture from the wind.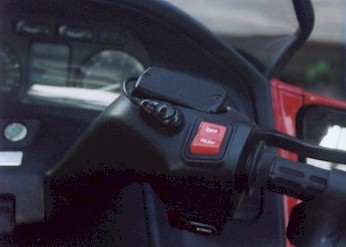 What makes my PC800 different?
Let me count the ways...
Clearview +3 windshield, Halogen Fog lamps from Competition Accessories, Saeng Edging, Givi Rack and soon to have GIVI 50 Liter Maxima box with backrest and extra stoplight, Chatterbox 27A CB unit and 3 foot whip, BACK-OFF rear brake light modulator, Trunk Mats by Rich, PC800 Glove-box from Neil, "Body By Tupperware" decals by Lee,Three piece Corbin saddle(bought used 12/00 - need to install in Spring 2001). Also installed is a separate fuse block, some neon around the edges and a PowerPoint plug for a 12 volt coffee-maker...
What's next? - after a 400 mile ride, some sort of cruise-control/throttle lock..the list is endless..
---
Links!
ipcrc.org - internet Pacific Coast Riders Club -great place to start - see other bikes, read archives, Join us! - no charge! hosted by Emile Nossin - becomnig my favorite website for many reasons -very snappy and always fresh material - (I like to think I kicked the list members into action)
Yahoo groups · Honda PC800 Pacific Coast Riders Club - Join this club to take full advantage from all the interactive possibilities, or feel free to surf thru the messages, bookmarks and files to get to know us and the PC800 better. In association with www.ipcrc.org
Dennis Kirk - decent prices, free shipping
Honda - "You mean they make cars too?"
Givi USA and Givi Italy - makers of fine cases for almost any scooter or bike
The PC800 website- not easily accessible - uses javascript.
New Enough Motorcycle Leathers - New and Used - Leather or Textile - easy riding or racing - they have it all...
Americade - what can I say - you MUST go!!
My Tour - The Great New England Fall Color Tour 2000 TGNEFCT2K

Last updated: 12/27/2000
Depending on where you came from, you'll need to hit your own BACK button, sorry...